Overview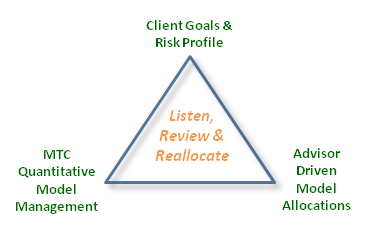 MTC Quantitative Models
Ultra-Tactical Long & Short: Short-term Model – up/down trend lasting days to weeks (i.e. opportunistic) utilizing stocks and ETF's.  Available in varying levels of equity and fixed income: UT100, UT80, UT50, and UT30.
Tactical: Intermediate-term Model – up/down trend lasting weeks to months (i.e. cyclical) utilizing ETF's and mutual funds.  Available in varying levels of equity and fixed income: TL100, TL80, TL50, TL30, and TLFI.
Disruptive Technologies Portfolio: Long-term model for your legacy and cross-generational wealth.  ETF based portfolio in disruptive technologies such as augmented reality, quantum computing, robotics, fintech, CBD, and others.
Custom & Third-Party: customized client portfolio which may or may not use any of the above models as well as Third-Party models that are screened by MTC.
Generally speaking, Strategic and Tactical models are used as a core allocation, and Ultra-Tactical and Disruptive Technologies Portfolio are used as a satellite or opportunistic allocation in the context of overall portfolio construction.
The Details
We offer discretionary portfolio management services using MTC Quantitative Models.  The total portfolio management includes both advice and portfolio management. No specific model will be utilized for all clients all the time. It is our firm's intent to utilize these models in coordination with an assessment of the client's risk profile, investment objectives and liquidity needs. For clients with multiple accounts managed by our firm it is possible that multiple models, with varying fee schedules identified in the agreement, would be used. This enables our firm to personalize a client's portfolio at the client household level.
The assessment and potential changes to individual model investments is expected to be done on an ongoing basis – weekly for Ultra-Tactical Long & Short and monthly for Tactical. Over ten years of research and technology programming has been undertaken to implement disciplined portfolio management for each of these models and continued research will also be undertaken to maintain and improve these models in the future. The fee for these models is designed to be commensurate with the advice, model design complexity, and trading frequency for each of our models.
We intend to review client accounts on an ongoing and customized basis, quarterly or upon client request, from the initial client on-boarding and throughout the client relationship, all as part of the total agreement fee that is based on assets under management. The client profile assessment and model assignments by account will be documented for each client.